In their first forecast report on native advertising spending that was recently released, eMarketer projects the spend on native digital ads in the US will exceed $22 billion in 2017 and this will represent about 53% all display ad spend.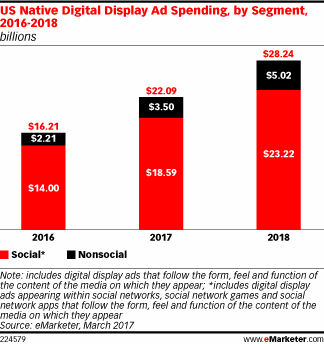 US total display spending grew from $33 billion last year to $41.7 billion in 2017. Native digital ad spend will continue grow to over $28 billion in 2018.
Within the ~$22 billion spent on native digital ads in 2017, most of it were on social media platforms particularly on Facebook, but the non-social components are growing fast going from $3.5 billion this year to $5 billion in 2018.
eMarketer's principal analyst, Lauren Fisher, explained to Mediapost' Native Insider that social media channels had helped trained advertisers to adopt in-feed native ads leading to the social channels' 84% share of native ads spending. Learning from that, publishers are starting to adopt a similar in-feed style for native ads instead of relying on only standard banner ads. This, coupled with recent partnerships between native ads platforms and DSPs (ie Nativo and The Trade Desk), should explain the forecasted fast growth in the non-social components.
In-feed native ads will be crucial to publishers as audiences shift towards smaller mobile screens to consume content by scrolling and where publishers will lose the rightrail real estate commonly reserved for banner ads. Moreover, publishers can then command a higher price as advertising clients ask for more custom sponsored content including videos that are not available on big social platforms.
Since native advertising is largely purchased on social platforms, it's also almost entirely mobile. Native mobile display ad spending will reach $19.5 billion this year, representing a 88.3% share of total native ads, and it is still growing. However, it will only be 64.5% of all US mobile display ad spending in 2017.
eMarketer estimates 84% of all native display ad spending ($18.55 billion) will be transacted programmatically in 2017 because of social media ads, which are mostly transacted via APIs.
Interesting Reading: 4 Key Takeaways From EMarketer's US Native Digital Display Advertising Forecast